<![if !IE]> <![endif]>

Mecaniek Chevalier
Pont West 105
9600 Renaix
Belgium
List of product entries
This exhibitor shows the following products and commodity groups:

Product sector
cocoa, chocolate, chocolate products

Product emphasis
Machines and equipment

Target and sales markets
Australia
China
Japan
New Zealand
Northern Europe
Others Eastern Europe
Russia
Southern Europe
Turkey
USA
Western Europe

Company & products
Products
Smart Flexible Depositor "SFD"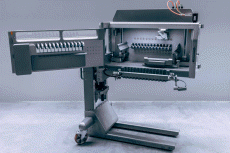 The SFD or "Smart Flexible Depositor" is a superior confectionary production solution. This top-of-the-range
machine can deposit the most diverse variety of products, ranging from raisins to hazelnuts to almonds.
The SFD combines a wide range of applications with enormous speed and exceptional accuracy, far ahead
of its competitors.


Do you wish to use one depositor
on several production lines
without compromising the quality
of the process and the product?


Then the SFD is the right choice.
Always accompanied by a mobile
carrier that allows the height as
well as the angle to be set, the SFD
is easily moved to execute a
different task within your
production facilities.
The SFD's flexibility sets a new
standard for product variation
within short time intervals.
Trademark
Trademark
Trademark