<![if !IE]> <![endif]>

Theegarten-Pactec GmbH & Co. KG
Breitscheidstr. 46
01237 Dresden
Germany
+49 35125730

+49 351 2573329

Theegarten-Pactec specializes in the design and construction of packaging machines for small pieced confectionery items. The company combines more than 20 different types of packaging with a broad performance spectrum. The following products can be packed or wrapped: hard candies, jelly products, toffees, chewy sweets, chewing gums, chocolate products, and various other food and non-food products.
Experts in the packaging of small-sized confectionery items
Theegarten-Pactec, the packaging machinery manufacturer from Germany offers a complete selection of wrapping styles and performance levels for smallsized confectionery items. The manufacturing program is organized in a matrix, meanwhile comprising of more than 30 individual solutions for the three main product categories hard candy / pre-formed products, soft caramel / chewing gum (cut & wrap method) and chocolate products. Several additional food and nonfood applications are also available. In each of these categories, the typical wrapping styles can be offered. The company develops new designs and solutions in-house or in co-operation with their customers, for instance to optimize wrapping material consumption or to provide innovative solutions for the presentation at the point of sale.
Theegarten-Pactec's innovations originate in their Research and Development Departments, the company's creative center. Out of a total of about 400 staff members, more than 90 work in these departments which are also in charge of concrete customer requirements such as the integration of individual packing machines by appropriate feeding, separating and collecting systems to form complex packaging lines.
Along with the ongoing development of the machines, the packaging specialists from Dresden place particular emphasis on assisting their customers all over the world in dealing with questions and solving problems quickly and straightforwardly. Theegarten-Pactec's offering includes comprehensive customer services across the full machine life cycle, even for machines that have been doing their job for decades. The company therefore not only takes care of spare parts, supplies, maintenance and the upgrading of existing facilities on site but also advises them through its well-developed and wide network of reliable local representatives.
Galerie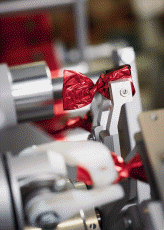 Product groups
Brand
Press realeses
Further links