<![if !IE]> <![endif]>
Molded Fiberglass Tray Co
6175 US Highway 6
Linesville ,PA 16424-5921
United States of America
Molded Fiber Glass Tray Company – Fiberglass Tray Manufacturer, ProSweets Cologne - Stand# A061
The material matters in material handling. Molded Fiber Glass Tray, MFG Tray, is a leading manufacturer of high-strength, glass-reinforced composite containers, trays, boxes, flats, and totes for material handling in the metalworking, plastics, and electronics assembly industries, as well as in food service, confectionery, and pharmaceutical processing. The company continually develops customized solutions for specific material-handling challenges and applications. Customers are encouraged to contact MFG Tray to discuss any unique handling and design requirements.
MFG Tray products bring an array of performance differentials to material handling applications, including high strength-to-weight ratios, corrosion resistance, temperature stability, and dimensional stability with high load-bearing capacities. MFG Tray products combine outstanding performance features with long service life to ensure exceptional value.
MFG Tray was founded in 1952 in Linesville, Pennsylvania USA just four years after Robert Morrison founded the parent company, Molded Fiber Glass Companies (MFG) in Ashtabula, Ohio USA, and became the first manufacturer to mass-produce commercial products using polyester resins and fiberglass reinforcements.
Today, MFG Tray Company continues to offer both specialized and multi-purpose material handling products for food service, confectionery, pharmaceutical, electronics, and industrial applications, and continues to work with end-users in the development of custom products to solve unique material handling, processing, and storage needs. The strength, stability, versatility, and durability of composite materials continue to reinforce the fact that the material really does matter in material handling.
Molded Fiber Glass Tray Company
6175 US Highway 6, Linesville, PA 16424
+1 814 683-4500
www.mfgtray.com
Galerie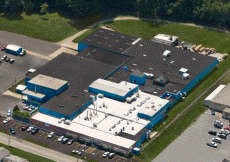 Products
Product groups
Brand
Press realeses
Documents
Further links