<![if !IE]> <![endif]>

Focke Packaging Solutions GmbH
Industriestr. 17
26676 Barßel
Germany
FOCKE & CO develops end-of-line packaging solutions tailored for the snack food industry, featuring for example gentle product handling for delicate products. A special focus is also laid on shelf-ready packaging, resource-saving use of materials and the challenge of automated packaging lines with little space requirements in snack food production halls. Additionally, FOCKE & CO serves the hygiene industry with high-speed packaging lines for packing products such as sanitary napkins, pads and diapers.

FOCKE & CO is one of the leading manufacturers of packaging machines worldwide. In addition to the headquarter and divisions in Germany, the family-owned enterprise operates sales and service branches on all continents. Since the foundation in 1955, FOCKE & CO has delivered more than 23,000 machines to more than 120 countries.

Focke Packaging Solutions GmbH, located in northern Germany, is the second largest company within the FOCKE group and is specialized in design and assembly of tailor-made packaging solutions for the savoury snacks and hygiene industries.
Galerie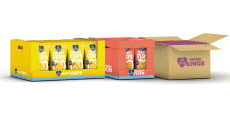 Products
Product groups
Brand
Press realeses
Further links