<![if !IE]> <![endif]>
DTM Print GmbH
Mainzer Str. 131
65187 Wiesbaden
Germany
+49 611 927770

+49 611 9277750

List of Products
This exhibitor shows the following products and commodity groups:

Product sector
biscuits
Breakfast products
cocoa, chocolate, chocolate products
fruit snacks and vegetable snacks
Ice cream, deep-frozen confectionery
Savoury snacks
Snack foods
sugar confectionery

Product emphasis
Packaging machinery

Target and sales markets
East Africa
Middle East
North Africa
Northern Europe
Others Eastern Europe
Russia
South Africa
Southern Europe
Turkey
West Africa
Western Europe

Company & products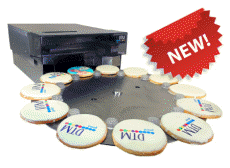 eddie™ - Edible Ink Printer
Eddie is the world's first-and-only NSF and GMP-certified edible ink desktop printer that prints full-colour photos, logos, designs and text directly onto the surface of many food items.

When thinking of food printers, the ones come to mind that print on wafer paper or icing sheets which must be glued to the baked goods or confectionary. Unlike those printers Eddie prints directly onto cookies, candy, white chocolate, biscuits, macarons, marshmallows, chocolate lentils, and much more. Suitable food items can be up to 89 mm wide.

Eddie makes the printing process fast and easy. The machine prints up to 6 print objects per minute, depending on the item size and actual print design. The included carousel feeder rotates the food items to the print position, the printer pulls in one item at a time, prints and sends them back to the carousel – all automatically and hands-free.

Personalisation is all the rage in today's consumer and B2B markets. Eddie can produce new profits in commercial settings from bakeries to hotels, tradeshows, gift shops and amusement parks. Applications for personalised baked goods and confectionary include birthday parties, baby showers, religious initiation ceremonies such as baptism or bar/bat mitzvahs, weddings, anniversaries, Christmas and holiday gifts, trade show giveaways and souvenirs.

Eddie sells for € 2,995 (MSRP) and is available directly from DTM Print or through authorised DTM Print partners in Europe, Middle East and Africa.