<![if !IE]> <![endif]>

List of product entries

This exhibitor shows the following products and commodity groups:

Product sector
cocoa, chocolate, chocolate products
Fine bakery products
Snack foods

Product emphasis
Packing machines

Target and sales markets
Northern Europe
Others Eastern Europe
Russia
Southern Europe
Western Europe

Company & products
Products
HORIZONTAL CARTONER BASIS50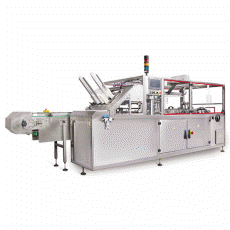 Basis50 - automatic car of step action step-by-step machine with horizontal loading.

The machine is designed to realize the diversity of your needs for packing in a carton box, because it provides a big variety of options:

-pack shapes;
-products (food and non-food areas);
-ways of laying and grouping;

Basis50 demonstrates stable performance and high quality packs at speeds with capacity up to 50 packs / min.
Description- simple and reliable design ensures minimal operating costs; - the possibility of making various types of packs (optional);
- various laying options: (from a conveyor system; from a flow-pack; from a vertical packing machine; from an automated system for forming and laying a group; manually);
- a wide choice of packaging solutions (piece products in film; products in a correction; a group of several packages; group stacking of bars);
- the cartons are made in accordance with the requirements of current sanitary standards and regulations, as well as the requirements of the CE standard.
Trademark
Trademark
Trademark